home - art gallery - biography - artist's statement - links to related sites - Email: wdreamb@yahoo.com

Marcia Pagels: Art Gallery
Farm and Vineyard
Marcia lived in the Napa Valley just a couple of years: 1952-54. But she often returned in fall and especially spring, painting the vivid contrast of the dark, twisting pruned grapevines awash in brilliant yellow mustard.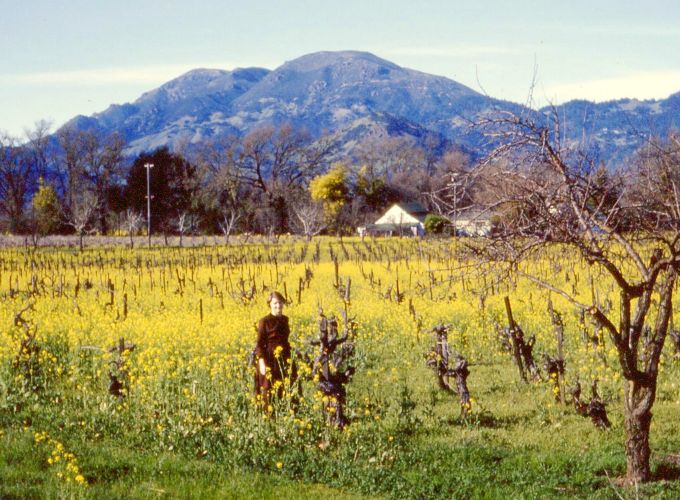 She also loved the quieter colors of the San Mateo Peninsula coast, south of San Francisco, painting its artichoke fields and ramshackle farms.
This is the memorial online gallery for Marcia Pagels, 1930-2010. 100+ works are still missing. If you know of one not shown, please email Chris Wayan, wdreamb@yahoo.com
Farm
1950 #098

Haying
1950 #099


Pink Orchard
1950s #101

Vineyard Hills (sketch)
1958 #089

January Tree Patterns
by 1965 #106

Orchard in Mustard
by 1966 #105

Orchard in Lavender and Gold
1966 #131

Oaks and Mustard Hill
1967 #139

Barn??? Nov. 1972
Is this early stage of #210 Vineyard in Red with Barn?


Path To the Lake
1973 #182

February in the Vineyard
1973 #185


Eucalyptus (Fire Road)
c. 1973 #196

Field of Mustard with Water
1974 #186
see also Napa Vineyard

Mustard in the Vineyard
1974 #187


Blue Grapevines and Yellow Mustard (Alexander Valley)
1974 #190

Mustard in the Vineyard II
c. 1974 #195

Mustard in the Vineyard III
c. 1974 #197

Vineyard with Fog on
the Hills 1974 #208

White Orchard
1977 #213

Almond Trees:
View From the Gilmans'
1987 #217

Hillside Grove
1989 #229 (early)

Hillside Grove
1989 #229a (reworked)

Coastal Valley
1990 #238

Half Moon Bay
Flower Market
1991 #246


Fall Tapestry
(Half Moon Bay Valley)
1992 #253

Coastal Pasture
1993 #255


Napa Vineyard
see also Field of...
1999 #262

Oak Tree
2000 #268b

Artichoke Fields near
Año Nuevo Point
2001 #273

Mustard and
Blossoming Trees
2002 #275

Field of Mustard 2007 #296
see also Napa Vineyard

Filoli Estate II
2008 #306
home - art gallery - biography - artist's statement - links to related sites - Email: wdreamb@yahoo.com